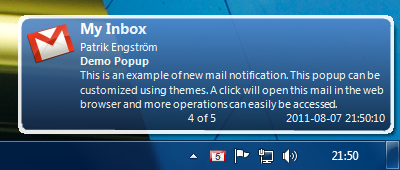 // Registration Code //
Code:
<RegisteredUser><Name>SoleWe</Name><EMail>admin@yawego.com</EMail><RegistrationCode>BE33CC8DD0502215</RegistrationCode></RegisteredUser>
Prompts: This registration code is also suitable for the Gmail Notifier Pro v4.2.2 (tested by SoleWe)
// Install Notes //
1. Download and unzip the portable version from below or from official website
2. Open the "ConfigData.xml" file in folder
3. Find "<RegisteredUser />" line, replace it with the "Registration Code" above and save (or use the keygen to register)
4. All done, enjoy!
Keygen by Team NOY
// System Requirement //
Requires
Microsoft .NET Framework 3.5
(already included in Windows 7).
// Related Links //
Gmail Notifier Pro v4.2.3 Portable Registered Version by SoleWe
// Download URLs //
Code:
http://www.gmailnotifier.se/download_zip.php
(Official Portable)
Code:
https://www.box.com/s/a4d2b94f3ee909b4056d
(Keygen, 12.3 KB)