The ultra tough world's first wheel-jump crossCountry offroad bigFoot monsterTruck 3D game! pure green! unlimited! enjoy!!
You can select bigFoot and sports car and levels freely in game,and the cars can jump with wheel! The realistic scene,fierce explode and collision can make you very excited! Beware the dengerous traps and the evil enemy cars!!
[ features ]
you can:
jump to across obstacle or hit or dodge
hit other car by jumping wheels to add nitro
use nitro to accelerate
back car is very usefull and can use nitro too
rotate or zoom view to check scene
learn front or back to avoid turn over
select car
select car color
select game difficulty
config graphic to balance fps and effect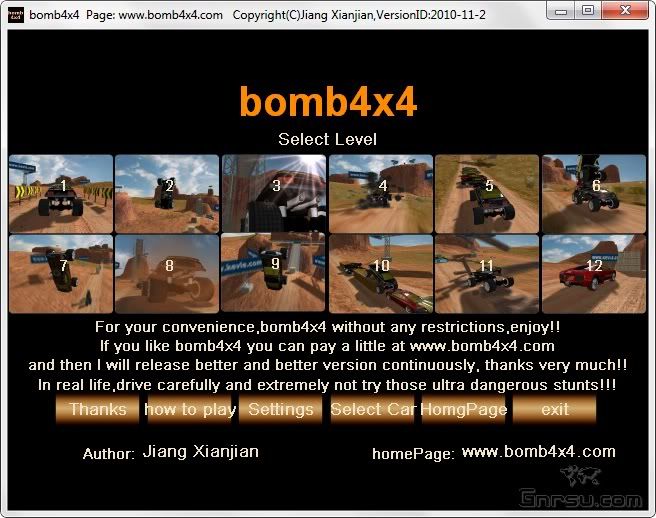 [ How to play ]
When you reach the goal-point, you win!
SPACE - all wheels jump
mouse LB/RB - front/back wheels jump (LB/RB can set swap)
roll mouse MB - zoom view
mouse move - rotate view
A/D - lean front/back (A/D can set swap)
W/S - go/back
press SHIFT - use nitro
ESC - pause/continue
[ software info ]
OS: Win2000,Win7 x32,Win7 x64,WinServer,WinVista,WinVista x64,WinXP
License: Freeware
Publisher: Jiang Xianjian
For your convenience, bomb4x4 without any restrictions, enjoy!!
[ Click to download ]
Code:
http://uploadingit.com/file/1r8bxsc0cka3j9vp/bomb4x4.SoleWe.com.7z/
(29.0 MB)